Oceanfront Puerto Morelos Homes For Sale or Rental
Enjoy our peaceful
oceanfront homes
and
vacation rentals
in the heart of laid-back, sunny
Puerto Morelos
, the jewel of the Mayan Riviera. All the essential comforts and modern conveniences plus
ocean view terraces
and
private pool
access.
Oceanfront Homes – Diamond Villas
With ocean view patios, private rooftop lounging, and a master bedroom terrace, our amazing three bedroom Diamond Villas provide the perfect Puerto Morelos vacation home or rental property. Each villa features an equipped kitchen, breakfast and alcohol bar, plus a large combined living and dining room.
Puerto Morelos Townhome Condos
Our spacious, modern Townhome Condos are your perfect oceanfront vacation or beach home getaway properties! With two large bedrooms, expansive living area, ocean view terraces, and many other essential amenities, Ocean Homes Mexico is your destination for vacation or real estate properties in Puerto Morelos.
PUERTO MORELOS REAL ESTATE
The owners of Ocean Homes Mexico offer low-interest financing options.​
Contact Us Today!
The Caribbean is Calling You
After successfully closing a business deal with a new client, you and your partner deserve a much-needed break. You want to go to a place where you can both relax and unwind. Like having a second honeymoon, a Caribbean vacation getaway is something that you have been promising for quite sometime. If you want a tranquil environment that has an ocean view to boast, Ocean Homes Mexico is the perfect spot for you.
Luxurious Accommodations
Located Just 15 Minutes South of Cancun Airport
Treat yourself to the fine luxury of these unique accommodations and explore the dramatic features which distinguish our exquisite Town Home Condos & Diamond Villas from every other oceanfront destination in the world. Enjoy our beautiful white sandy beaches with breathtaking views, and our fabulous 65 foot custom designed pool and circular lounging area, surrounded by a well though out landscaped Courtyard.
Private Beach Access
Soft, White Sand Beaches
When staying at Ocean Homes Mexico the soft, white beaches and beautiful, blue waters of the Caribbean are always near at hand.
With access to Ocean Homes Mexico's private beach area you'll always find a relaxing spot in the sun under one of our four palapas, or calm, reef sheltered waters for swimming or wading. This is especially great for all families as you don't get the larger waves found at other beaches.
"This was by far one of the best place I stayed in Puerto Morelos. Great location, amazing view, spacious condo, modern, clean and well maintain. Great service from Bobby and the people on site."
"This condo exceeded our expectations. Tall ceilings, perfect appointments and amazing sea views greet you as you enter, the gleaming marble floors reflect the frigate birds as they wheel overhead. This is the spot for a fab vacation."
"Beautiful flat and grounds, well equipped kitchen, responsive and hard working staff always on the premises, gorgeous views."
"This condo had everything you need for a comfortable stay. The property was well maintained. Pool clean. Ocean perfect. The bar next door a great time and town a nice easy stroll to it all. We felt safe and comfortable and would definitely stay again."
Spend Your Puerto Morelos Vacation With Us!
We offer the
top Puerto Morelos home rentals
located only 15 minutes south of the Cancun Airport. They're perfect for anyone wanting to escape to
paradise
. Honeymooners, even if it's your second or third, you won't find a more romantic setting to enjoy together.
Our Townhome Condos have a great view of the ocean and have all 1,722-square ft. of space. Our properties are huge with many beautiful amenities like a kitchen with breakfast bar, a large combined living and dining room, and laundry/storage room. Plus, two spacious bedrooms with en suite bathrooms.
Make a Splash
Large Custom Pool
Our Diamond Villas and Townhouse Condos share a beautifully landscaped private courtyard featuring a fabulous 65 foot custom swimming pool with circular lounging area.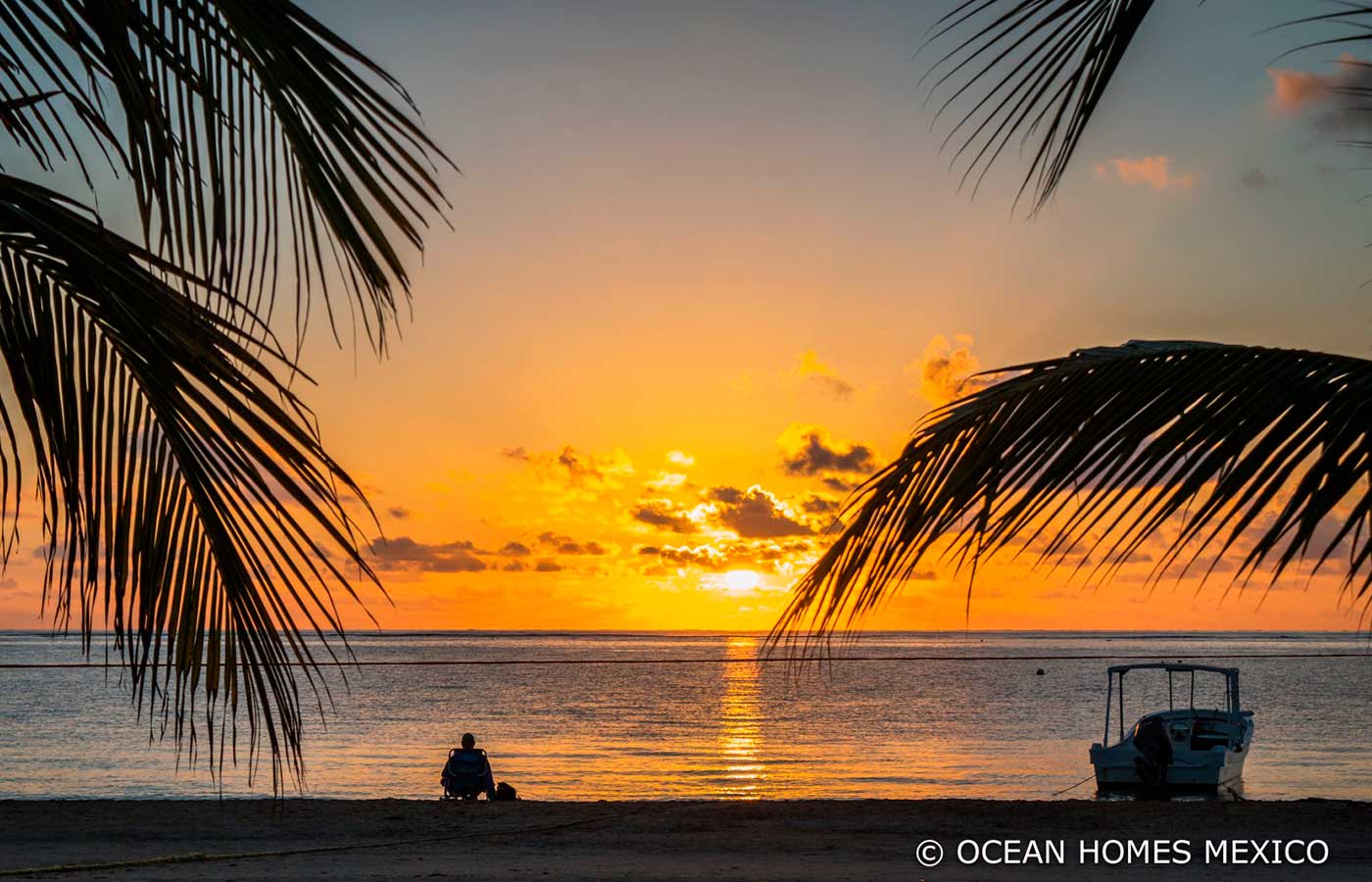 Colorful Sunsets and Gorgeous Sunrises
Life's a Beach
The beach at Puerto Morelos is shielded from rough ocean waves by the world's second largest barrier reef making for perfect tranquil conditions, easy swimming, and great snorkeling.